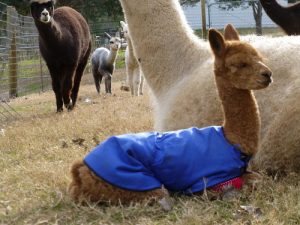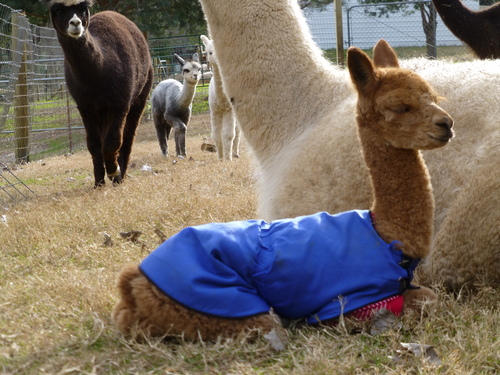 NessaRose finally had her cria. I shouldn't say finally because she was actually a few days early.
I predicted she would be born on the 28th as my niece was visiting and like clockwork there is normally a baby born when she is here. So the morning of, December 28th at 8:51 AM Nessa had, GypsyRose Lee, a beautiful female cria that is medium fawn. Her sire is KTL El Torro. Fortunately, Nessa decided to have the cria while we were cleaning and feeding. This meant we were there to watch the delivery and dry the cria so it didn't get chilled as the day was quite cold and rainy.
I was wondering how I could best help maintain the cria's temperature that evening. There is no heat in the barn, as always I spread a thick layer of hay for the cria to kush in. I remembered a comment I saw on one of the alpaca chat sites. They used the foot warmer inside the cria coats. (Don't use the hand warmers, they get too hot!) I had purchased some at Costco. They were just the ticket to help keep her warm. She was already decked out in 0-3 month old T-shirt plus a cria coat. I put the warmers between the two and she was good for the evening. That was a great idea and a lot safer than trying to rig up a heater that someone can get burned or knocked it over and start a fire.
Welcome GypsyRose Lee as the latest member of the herd at Arapaho Rose Alpacas.
COMING SOON Pending Due Dates
High Sierra Due Feb 1
Sedona Due Feb 7