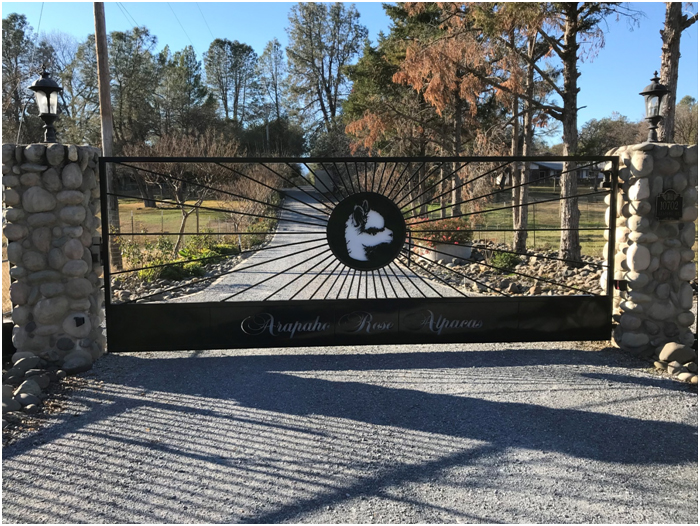 Meet the gentle alpaca up close. Our educational tours take you from alpaca origins and care to learning how their delightfully soft fiber is processed and used in wearables and art. The tour also includes a visit to the boutique.
Tours and Upcoming Events
Monday – Tours – Must make appointment
Tuesday – Tours – Must make appointment
Wednesday – Tours – Must make appointment
Thursday – Tours – Must make appointment
Friday – Tours – Must make appointment
Saturday – Tours – Must make appointment
Sunday– Boutique open 11-4
Please read the tour info below before making an appointment!
This is a private ranch! Please respect our privacy and make an appointment before arriving. We do not accept drive ups.
If you wish to shop in the Boutique and not take a tour, you will still need to make an appointment to do so, see below for contact information.
TOUR FEES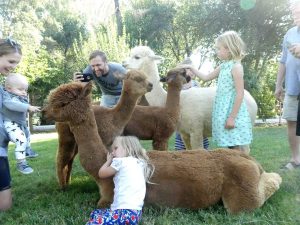 We do not charge a fee to visit our ranch. We do however appreciate donations or store shoppers!
How long are tours?
Tours usually take between 45 minutes to an hour. Just depends on the visitors.
WEATHER AND RANCH ACCESS
The tour takes place outside. This is a private ranch/boutique. While the ground is mostly flat, much of the surface is gravel, we have folks successfully navigate a visit with the alpacas in a wheelchair.
No Visiting Dogs Please
Dogs are not allowed on the ranch even on a leash. If you have a dog it must be left in the car. We do have shaded areas where you can park but, canines, are predators, and the biggest threat to alpacas.
Upon Arrival:
We often book several groups in one appointment, so we always wait until the designated tour time to begin the tour, thus giving everyone the opportunity to arrive. If you are a little early, on the left as you came in, there is a viewing pasture. Feel free to have a seat on the benches, relax and watch the alpacas. The tour will start in front of the boutique.
PARKING
Please stay to the right on the gravel drive to park or down by the barn.
About the Tours
Our mission is to educate our visitors about alpacas and all the uses for their wonderful fiber. We will answer a lot of questions and share a lot of information regarding the origin, history and care of the alpacas as well as how the fiber is used and processed.
Touching and Feeding Alpacas
We do let folks interact with them. We have pellets for sale in the boutique to feed the alpacas We do our best to be sure everyone has an enjoyable visit, humans and alpacas alike.
Small Children

Animals and small children can be very unpredictable, for this reason we please ask that all toddlers and children under the age of 4 always have a parent within arm's reach of the child . Please remember this is a private working ranch.
Young children under the age of 5, may prefer a petting zoo type facility instead of a private working ranch, but ALL are welcome. Alpacas are sweet, but very shy and don't like loud noises and fast movement. However, if you are patient, they may come up to you and maybe even give you a kiss.
Want to make an appointment?
You can…
Call/Text Karen 530-949-2972
email kskelly1@att.net
Facebook Messaging
Tour Scheduling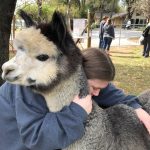 We are not open in the early mornings; this is chore time. Most appointments are made between 11 and 3 pm. The number of tours we schedule per week depends solely on our availability that week. There is no set schedule. We do host two Ranch events every year. No appointment is needed during these event dates/times. Shearing demonstration event is either the last Saturday of March or First Saturday in April, click here for the exact date and time.. National Alpaca Farm Days is always the last Saturday in September.
Large Groups
We do offer private tours to larger groups, for example, Red Hat Society, Lake California Garden Club, Camp Love a Pet, as well as some smaller groups of home schoolers. There is an age and student to adult ratio requirement for larger private tours.
We do not lease our alpacas for birthday parties or wedding events