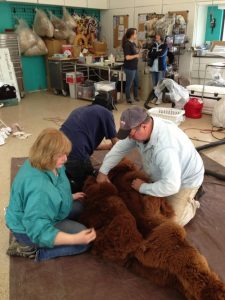 Spring is always a busy time around the ranch. Crias's being born. Getting ready for shows. Getting the irrigation ready for another year. Fertilizing pastures and OH Yeah, Shearing.
A couple of year ago I moved my shearing to mid March with the plan to have everyone but the show string sheared before April first. I did that because it is not unusual to have a day or two in April that's about 100 degrees. The pastures are drying out and the alpacas are finding places to have dirt baths. Add to that the oak trees are starting to bloom and with the pollen and little dried flower remains coming off, well you just get a cleaner fleece in mid March.
I must admit you do have to watch the weather closer because sure as you start to shear it will rain. This year has been the driest March on record. Guess what? It rained. Not much rain just enough to cause concerns. Everyone was confined to the barns and we made it just fine.