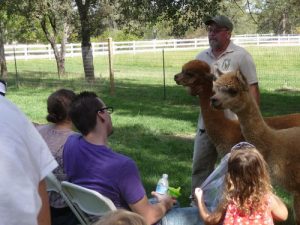 What a great day. We opened the farm from 10 to 4 for people to experience the alpaca lifestyle. The pastures were opened to visitors to interact with the alpacas. Though the alpacas were shy in the beginning they warmed up and stood, kushed or walked up to the visitors for attention.
The day on the alpaca ranch was filled with various activities for people to enjoy. We had spinners, weavers, shearing talks, basis alpaca talks and free food. Some people spent the day. One comment, "I feel like I spent the day at the spa. They are so relaxing."
It was a busy day with about 600 people attending. We had several alpaca ranches represented including: Lassen View Alpacas, Shady Ridge Alpacas, Oldcolindara Alpacas and Open Sky Alpacas.
Don't miss out again. Join us for National Alpaca Farm Days next September.