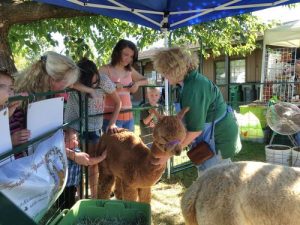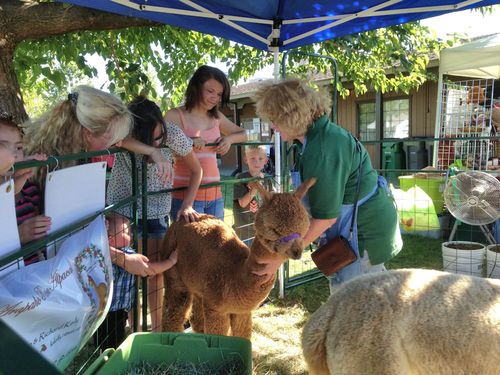 This weekend was the Palo Cedro Honeybee festival. We have been participating in this event for the last 6 years. We take alpaca products and a couple of alpacas each day. We are spinning and weaving in the booth but by far the biggest attraction is the alpacas.
We normally bring alpacas that are going to the fall shows. How better to socialize them than by being petted by every stranger attending the festival. We swap out animals each day. Attendees remarked we treat the alpacas better than the humans. They always have fans on them. This year we really needed them. The temperature was in the triple digits. The alpacas were under a huge tree with a pop up tent and fans.
As always the alpacas were wonderful ambassadors. They had a steady stream of admirers both days. During one of the few breaks we had the alpacas kushed and Triumph was caught cat napping. He was like I am when I read the paper and my head nods and the paper drops. POWER NAP!!!