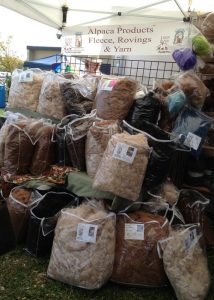 This is the seventh year we have had a booth at Lambtown in Dixon, CA. It's interesting to observe the cycle of interest in the attendees. Several years ago when the economy first took a down turn you saw people getting back to the basic like knitting and crocheting. The following year the people were looking for rovings the year after that they wanted fleece and this year they were back looking for yarn. I wonder if the cycle is cyclical?
Well we didn't bring any yarn this year so miss out on those sales but still did a respectable business in fleeces and rovings. Guess we better bring yarn for next year.
One of the most rewarding thing that happened is we had two people come by with projects they had made from the fiber they had gotten from us last year. I'm a little slow on the uptake so didn't think until the second person show up to take a picture. The shawl was made from our variegated rovings spun into lace weight knitted into a shawl then entered into the Monterey County Fair and took First Place.